Well agricultural LDPE film, HDPE film, PP film, LLDPE film pelletizer with guaranteed,with Compactor is mainly used for PA, PP, PS, PE, EPE, EPS,PET,UPS,ABS Film etc.

This machine is customized for our Indian who produce LLDPE LDPE film Client.
1. Two screen changer, each screen changer with two round, and filter area nearly reach 1200mm2, So two screen chagner total nearly 2400mm2 filter area. And the screen changer with pressure alarm, when the pressure reach the set value, it will alarm and worker come to chang the screen.
2. All motor, inverter ,PLC screen touch is Simens.
3. The compactor with water-cooling cover to coolimg the compactor more.
Two stage machine with two screen changer, so that it can fliter much more impurity. Meanwhile the machine with one vacuum degassing and one natural degassing, then the final pellets will be more beautiful. The machine is with high performance and high efficiency.

The film material is send to compactor by belt conveyer. There is rotary cutters are installed on the cutter plate.And there is also stable cutter are installed on the side of compactory. By the high speed of rotary cutter, the film will be crushed into small pieces. Meanwhile the by the friction of rotary and cutter, cushed material will be get together by its hot to increase its density. And also the wet water will be vaporated. Together film will be send into the extruder by centrifugal force.This will improve the capacity of film material.
The advantages of this machine
1. Highly efficent: the machine is automatic and with less power consumption.
2. Special screw design: We will design the screw up to customer different material and the material of screw and barrel can be 38CrMoAL or bimetallic.
3. High capacity: the capacity of the machine is about 200kg/h
4. Material come out more stably: material go through from the first stage to the second stage, with two screen changer, much more impurity will be filterd and the material come out from the die won't broken down.
5. Beautiful pellets: two degassing system, no air in the pellets.
6. The machine wih long life.

Advantage of our compactor
1. Counter current technology
Hight process stability thorugh improved material intake ensures constantly high output over a considerably broader temperature rang
Higher flexibility and operational reliability with a variety of materials
Increased throughputs with the same plant size for more productivity
2. Smart Start
Remarkably easy operate thanks to logical, clearly structured and simplified handing and ultramodern ergonomiic touchscreen disply.
Fewer buttons, more user-friendliness-thanks to high degree of automat on including extensive control packages.
The right recipe for every application-saved processing paramerter can be loaded easily and conveniently from the recipe management system at the push of a button
3. Save
Lower specific energy requirements thanks to a complete package featuring design and process engineering measures including the new direct drive for the extruder screw
Lower production costs through optimised control technology and high-quality, energy-efficient components such as high-performance motors
Additionally, the parctical energy dispaly on your operating panel gives you a constant overvies of eenergy consumption at all times, thus enabling you to take specific measures to optimise consumption
Feature
1. High precision gear box, high carrying capacity, steady driving, low noises.
2. Newly designed barrel and screw ensure better melt uniformity, low melt temperature and much higher production.
3. For most applications, standard nitrided steel is used for barrels and screws with high corrosion-resistant. the unusual material can be processed by choosing two species of metals.
4. The PID meter keeps the temperature steady and accurate.
5. hydraulic pressure screen changer, changing screen is easy and finished within a few minutes.
ML160-180 two stage Machine detail parameter

Item NO.
Item name
Quantity
Power

1

Belt conveyor

1set

2.2kW

2

Φ1

6

0/

36

single screw extruder

1

set

250

k

W

3

Compactor

1 set

160

k

W

4

Auto

Hydraulic screen changer system

1 set

5.5

kW

5

Φ1

8

0/10 single screw extruder

1 set

110

k

W

6

Auto

Hydraulic screen changer system

1 set

5.5

kW

7

Water-ring die face

cutting system

1 set

2.2kW

8

Chute

1 set

---

9

Centrifugal dryer

1set

7

.5kW

10

Vibration

1set

2*0.

55

kW

11

Wind transmission system

1 set

7.5

kW

12

Storage

Silo

1 set

---

13

Electric

al control box

1

set

---

Machine line



Machine line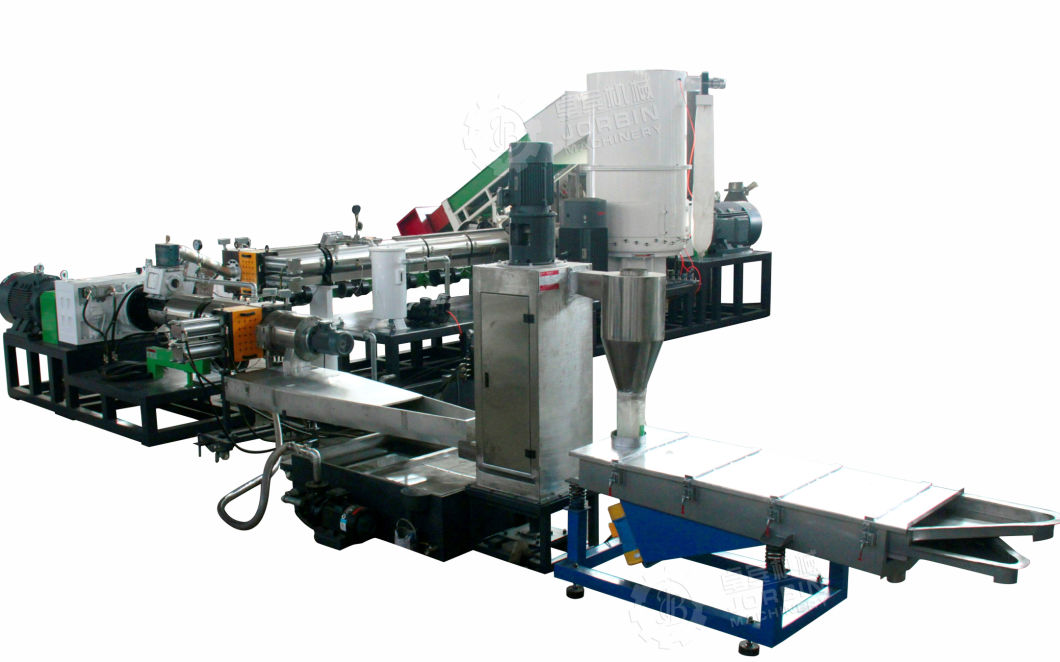 More machine photoes
Belt conveyer send the raw plastic film into the compactor(there is metal detector on the belt conveyer, when the metal in the material, it will alarm, and the worker throw away the metal and restart the belt)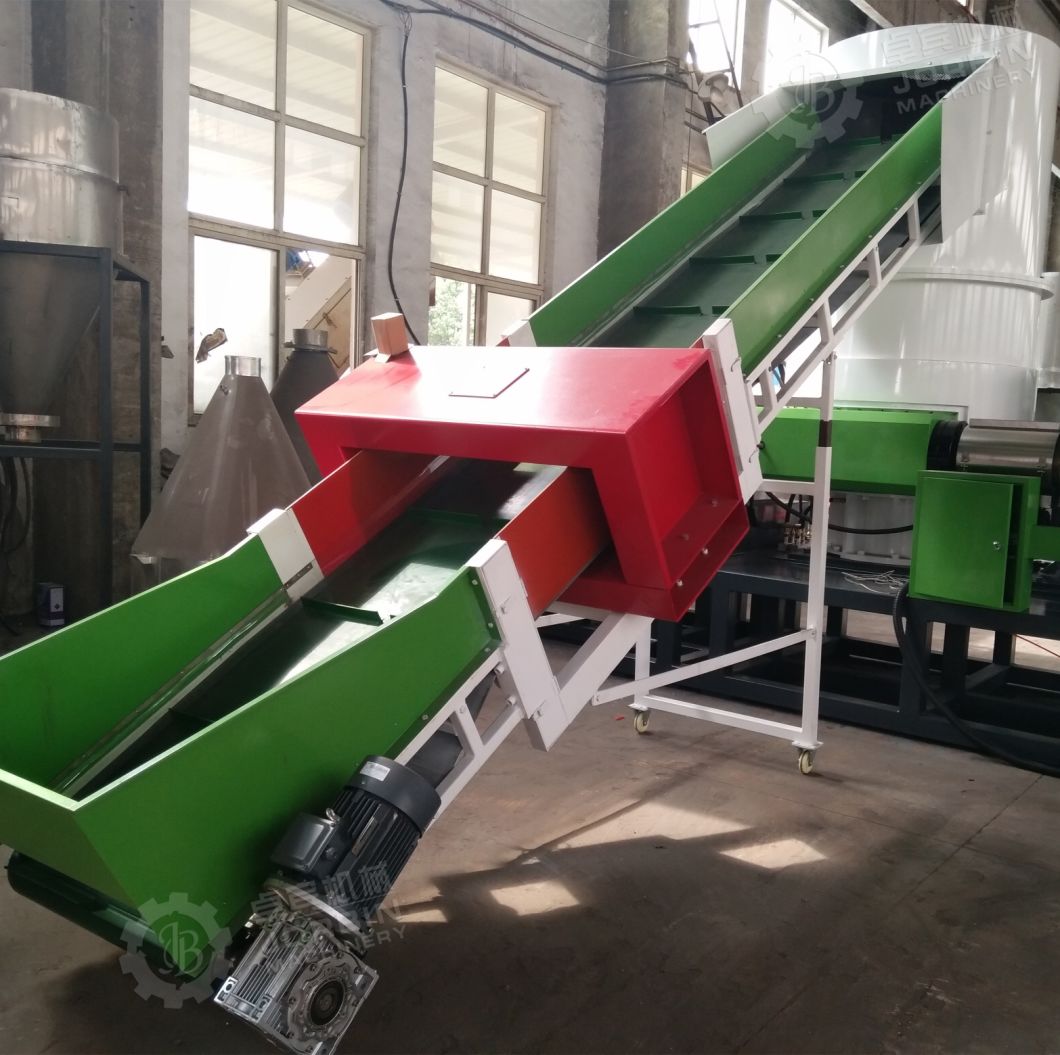 Compactor/cutter, withh counter current, smart start,more material can be send into the extruder, so the machine can improve the capacity of the machine.
From the first stage to the second stage, two stage machine with double extruder and double screen changer, and degassing, the material come out from the die will be much stable, and the capacity will be stable with Screen changer without filter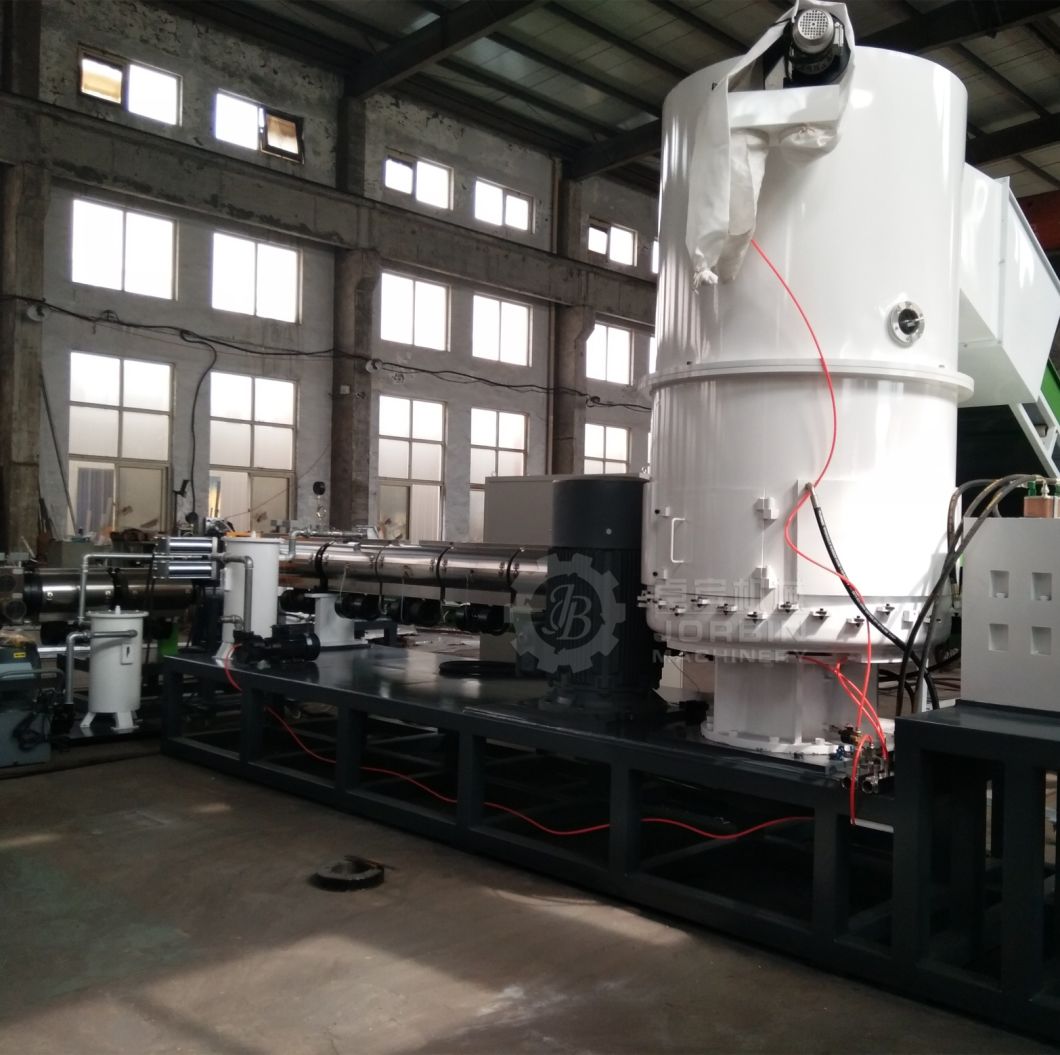 Two bar screen changer with 1200 square mm filter area.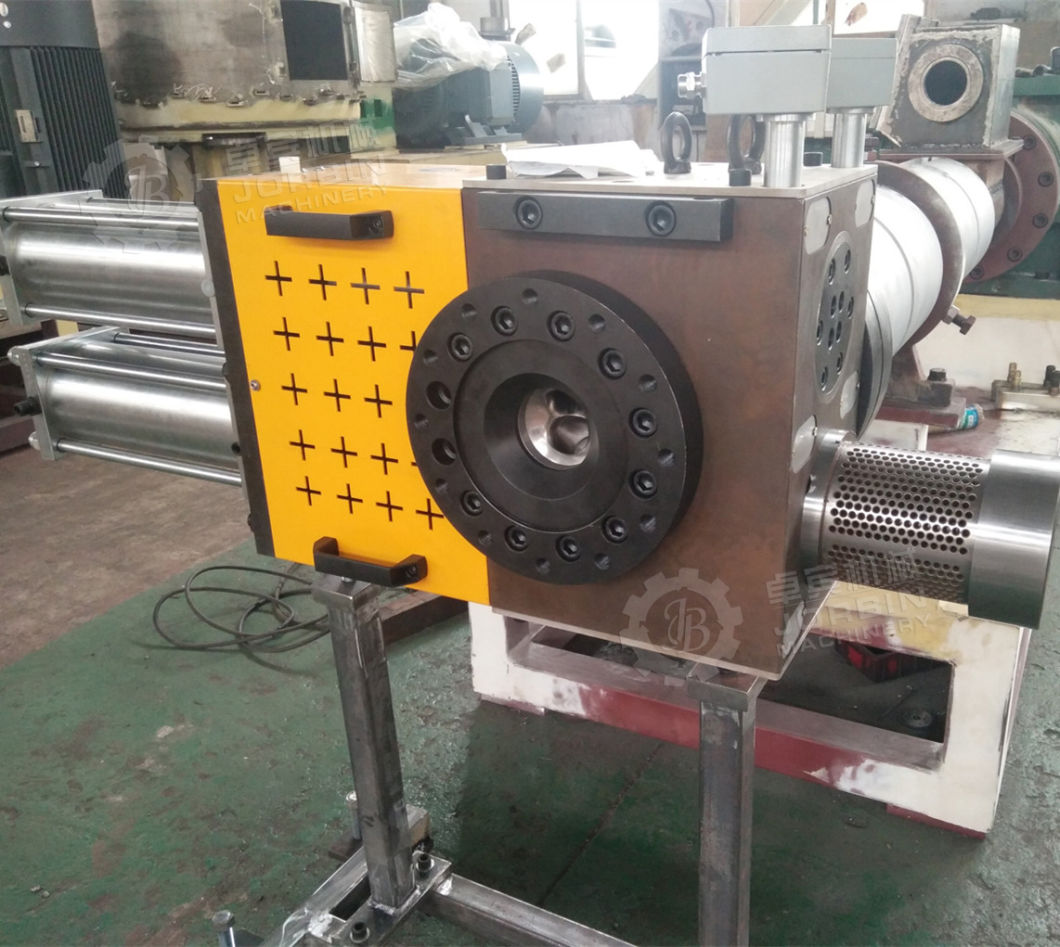 Horizontal Water-ring pelletizing way, the speed can be controlled and the pellets' size can be up to different requirement,Material come out from the die when we test the machine, we also can do Vertical water-ring pelletizing way, Each pelletizing way has its own advantage and disadvantage.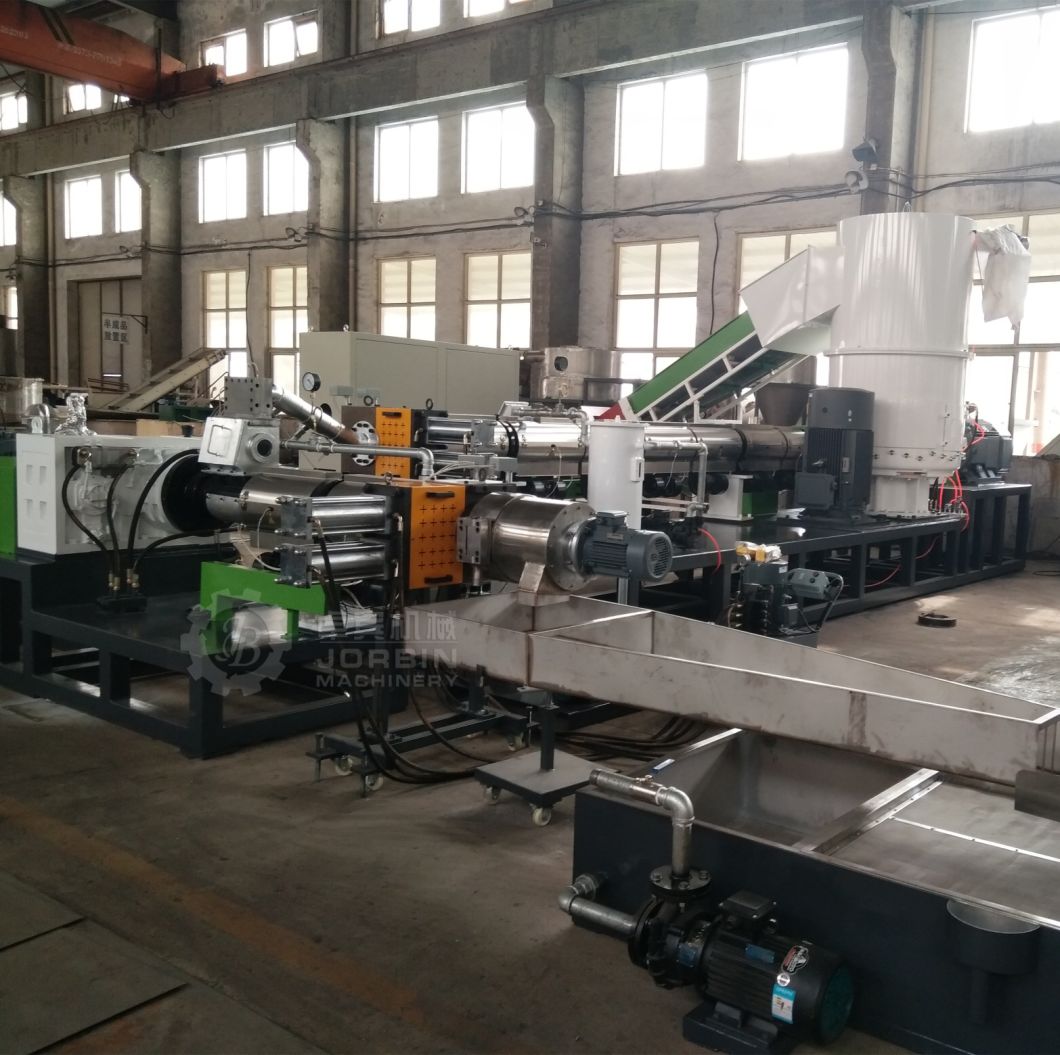 Centrifugal dryer and wind transmission system, material can be dry and send into the silo, there is screen net on the centrifugal dryer, can filter some powder and dust.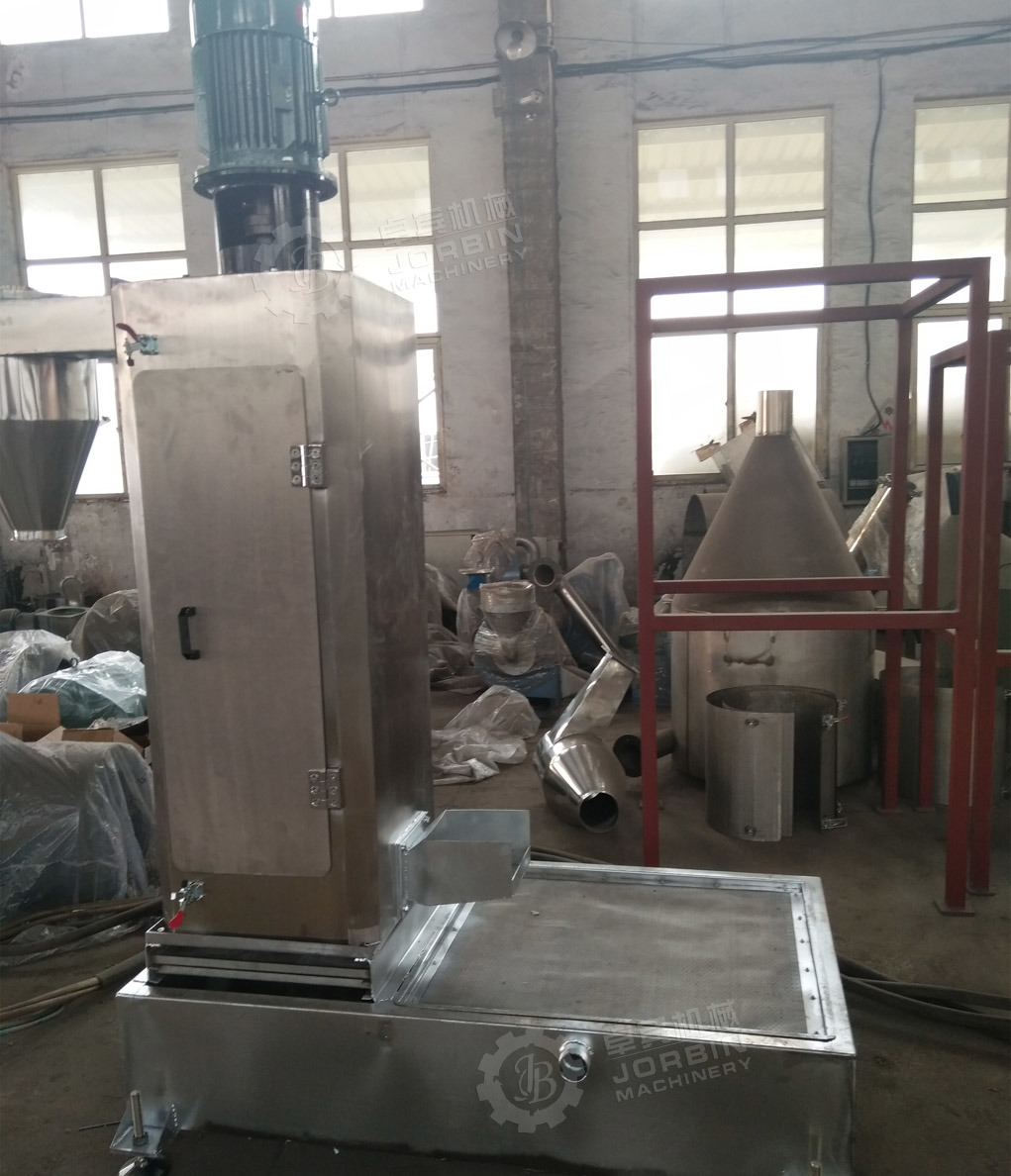 Material produce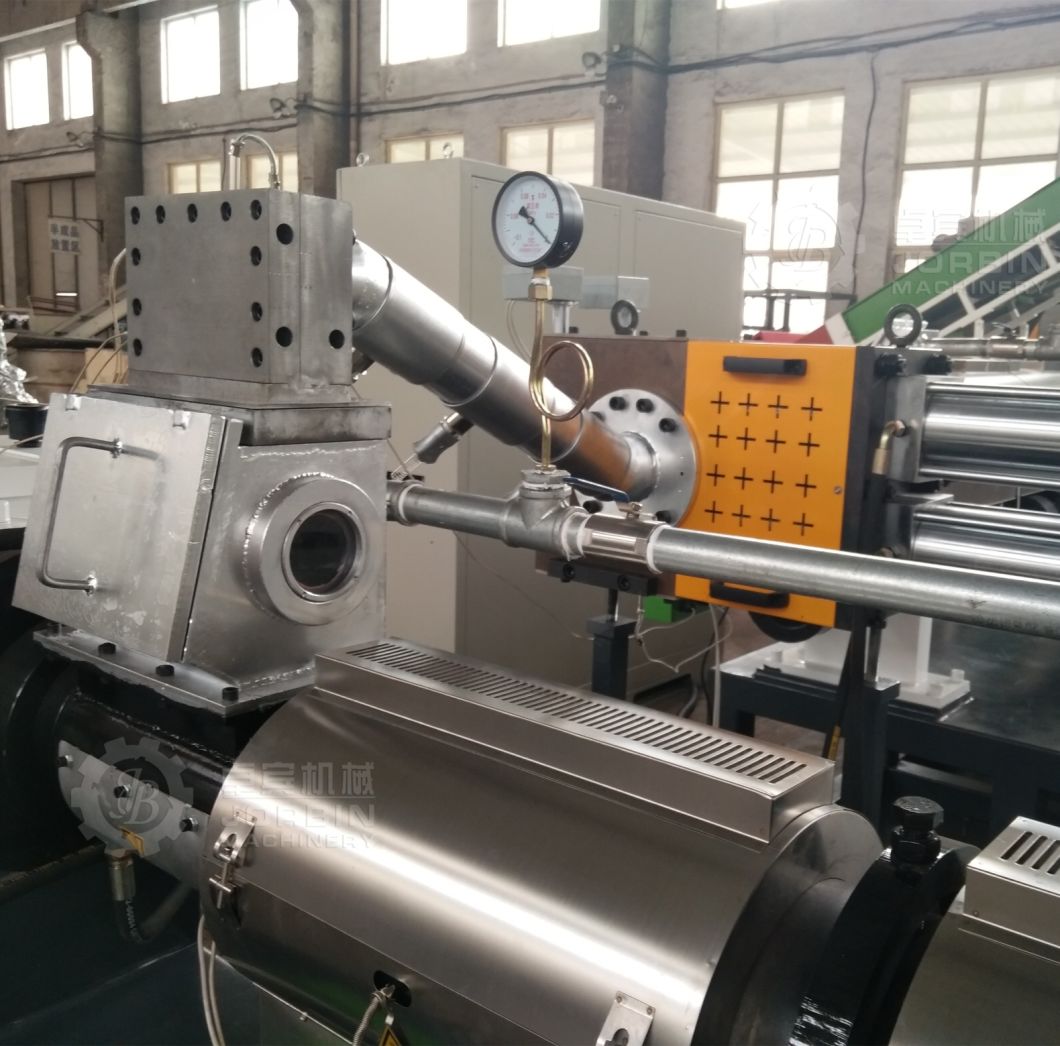 Clinet come to test the machine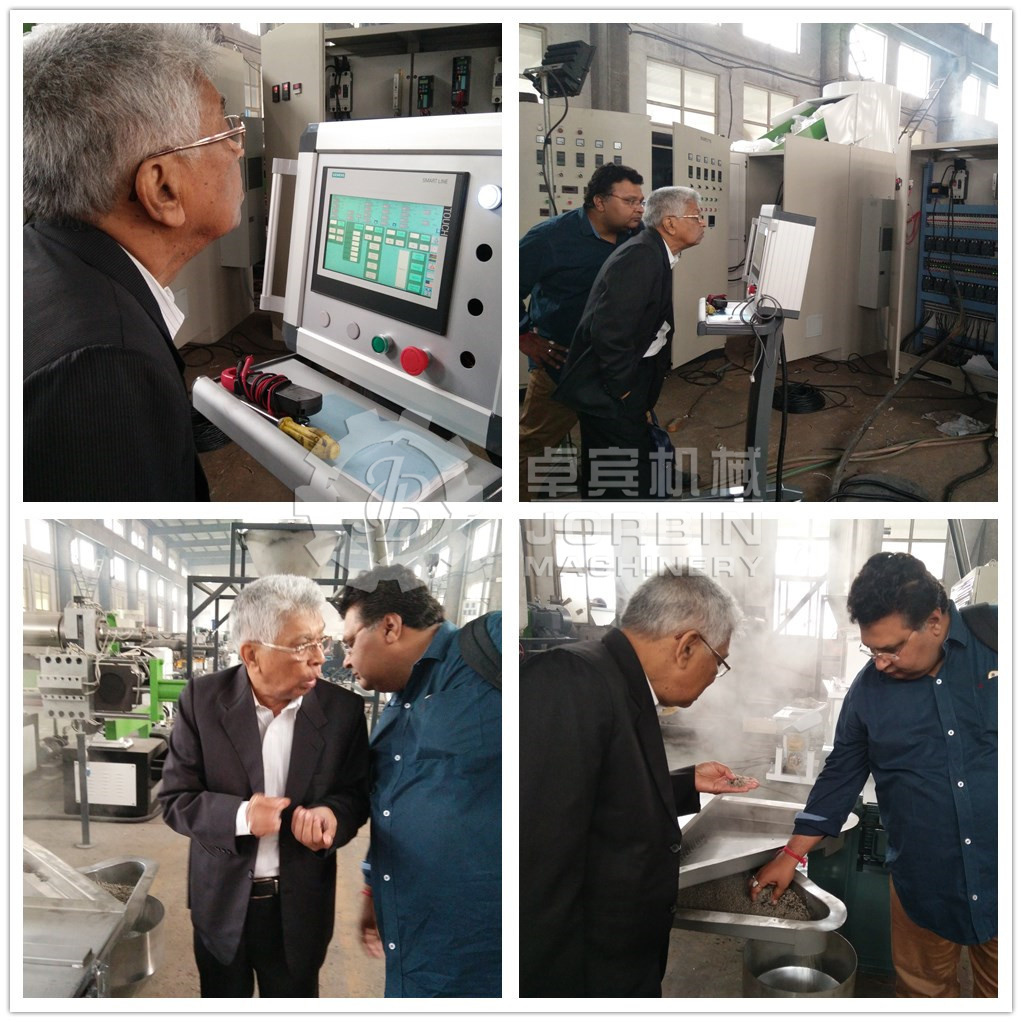 Material come out from the first stage to the second stage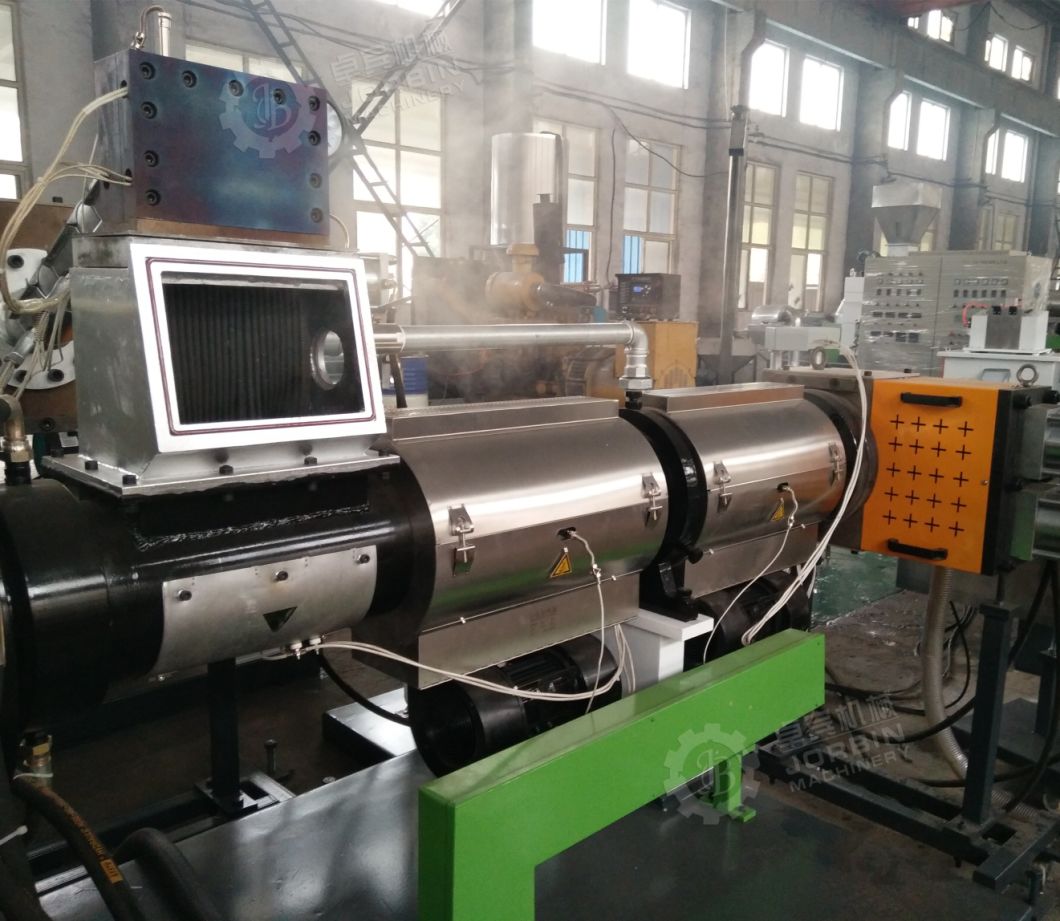 Machine loading to send to India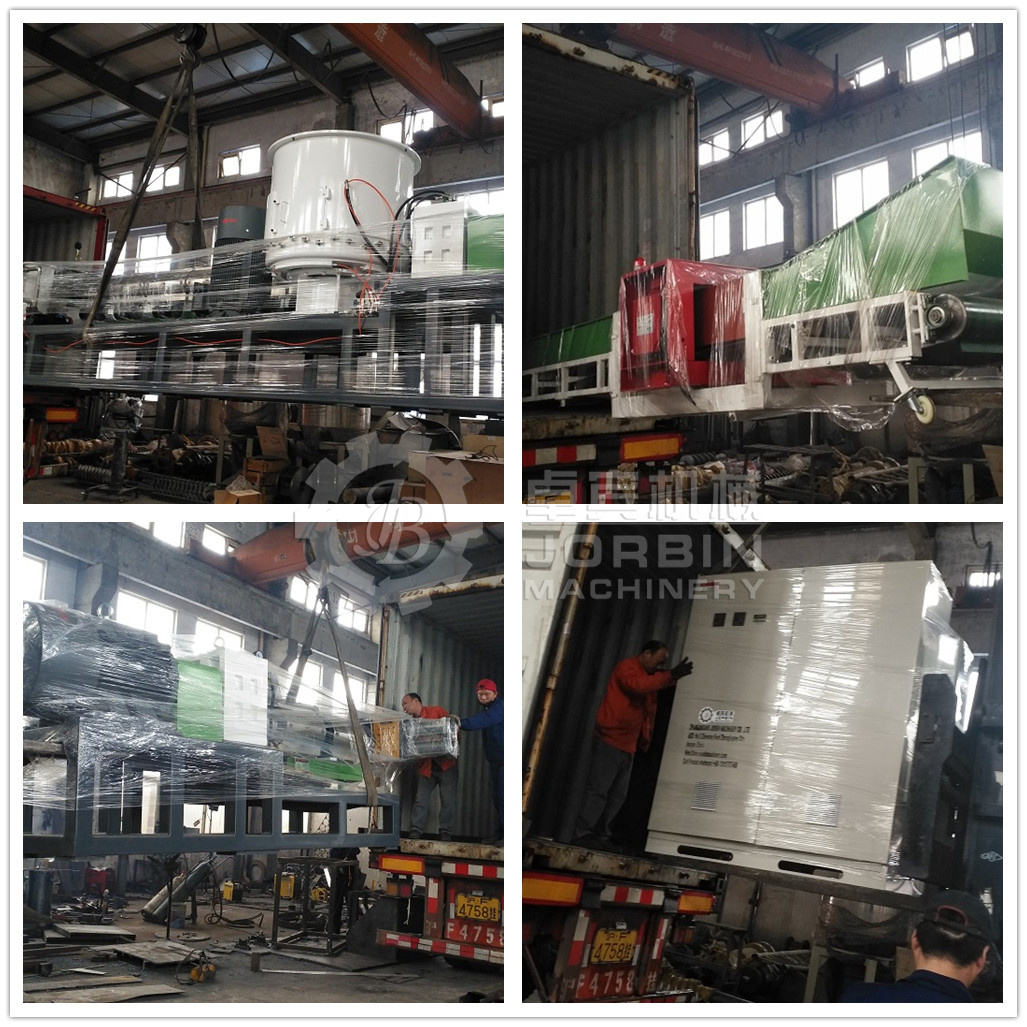 Pameter of such kinds of machine
Model
Screw diameter(mm)
L/D
Capacity (kg/h)
ML-100/100

SJ-100
100
26~33
250~300
SJ-100
100
10
ML-120/120
SJ-120
120
26~33
300~400
SJ-120
120
10
ML-150/150
SJ-150
150
26~33
500~600
SJ-150
150
10
ML-180/180
SJ-180
180
26~33
800~1000
SJ-180
180

10
If you need details kindly feel free to contract, we can send you more photoes and vedio of the machine




1. We supply below necessary documents with the machine:
Machine layout

Electricity diagram

Machine certificate

General manual book/maintenance book
2. We provides one-year quality guarantee. During this period, if the machine's malfunction is approved to be our responsibility, we will send the broken spare parts to you with DHL courier or other way within 7 workdays after receiving the complainant. And send the technicians to the buyer's factory for maintaining. All charges are in our account.

3. After one year guarantee, If you need we can provides payable spare parts and technician's VISITING maintenance, and any broken spares we can send you soon as possible.

4. We trust that our quotation meets with your requirements and we will gladly furnish you with further information.

5. 24Hours service : Cell+86-13915707468