Plastic LLDPE stretch film granulator for working with agglomerated stretch film LLDPE material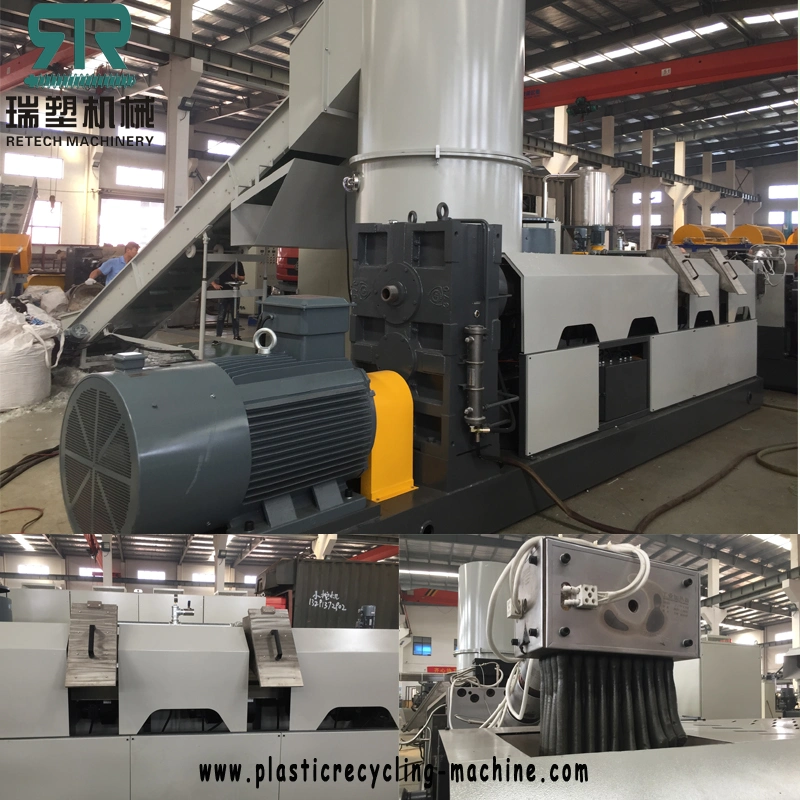 Product introduction:
This LDPE LLDPE HDPE BOPP film is designed and manufacture by our company,it combine the latest new Euro recycling tech which is with function of cutting/compactor the plastic film in first step,the specially designed structure screw ensure the best extrusion and vacuum degassing performance.
Application:
PE/LDPE/LLDPE/HDPE/BOPP film
PP yarn/PP woven bag/PP jumbo bag/PP silk/PP fiber
PS/EPS/XPS/EPE foam
PP PE LDPE LLDPE BOPP stretch film/blown film/thermoforming sheet/breathable film
Other laminated/composite film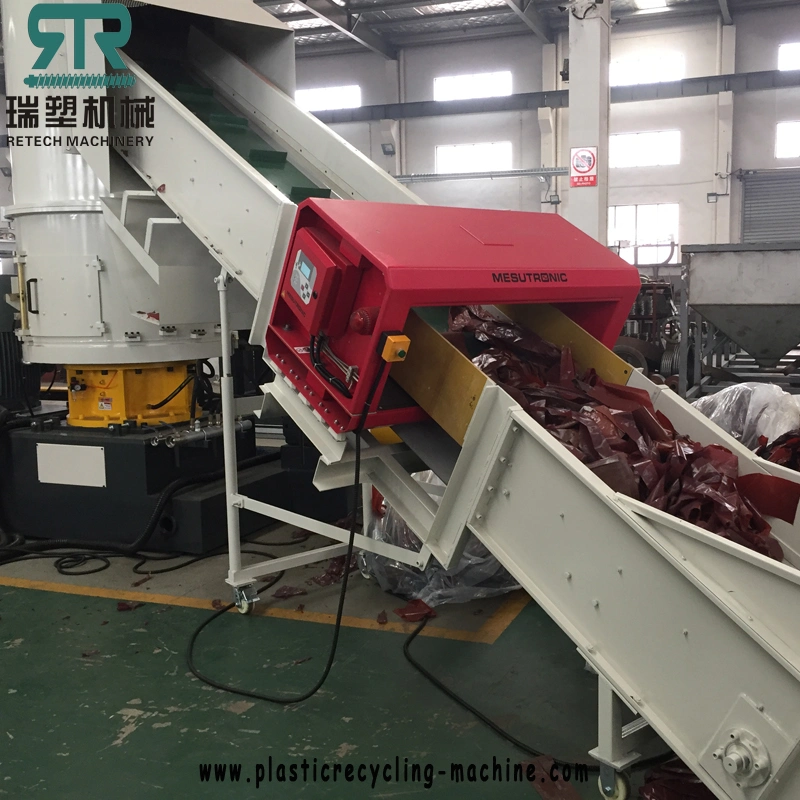 Model/Capacity:Double Stage
| | | | | | |
| --- | --- | --- | --- | --- | --- |
| Model | Diameter Screw | L/D | Power | Capacity PE | Capacity PP |
| RCSJ85-100 | 85/100mm | 33:1 | 0.4kw/kg | 160-220kg/h | 120-200kg/h |
| RCSJ100-120 | 100/120mm | 33:1 | 0.4kw/kg | 260-320kg/h | 220-250kg/h |
| RCSJ130-150 | 130/150mm | 33:1 | 0.4kw/kg | 450-550kg/h | 400-450kg/h |
| RCSJ160-180 | 160/180mm | 30:1 | 0.4kw/kg | 650-750kg/h | 500-600kg/h |
| RCSJ180-200 | 180/200mm | 28:1 | 0.4kw/kg | 800-1000kg/h | 600-800kg/h |
500kg/h RCSJ130-150 LDPE LLDPE HDPE film granulating line:
| | | |
| --- | --- | --- |
| No | Name | Power |
| 1 | Belt conveyor with metal detector | 2.2kw |
| 2 | Compactor/Agglomerator | 75kw |
| 3 | Main extruder machine | 132kw |
| 4 | Co extruder machine | 55kw |
| 5 | Water ring cutter/Die face Cutter | 2.2kw |
| 6 | Water cooling flume | 3kw |
| 7 | Dehydrator dryer | 5.5kw |
| 8 | Vibrating screen machine | 0.25kw*2 |
| 9 | Air blowing machine | 3kw |
| 10 | Storage hopper | |
| 11 | Electricity | |
The RCSJ 130/150 Plastic film granulating machine is consist of following:
Plastic Film Feeding:
*The film feeder is to convey the plastic into compactor,it is usually to equipped with a metal detector device to find metals and protect the next machine. Operators feeding the material continuous until the belt stop and the compactor full of plastic. The current in compactor will decide feeding or stop.
Meanwhile,the belt also usually equipped with a emergency stop switch.
*Another feeding way is to put the roll plastic film into compactor by roller feeding device.
Compactor/Agglomerator
Our Compactor is with function of plastic cutting /plastic drying/plastic agglomeration. Here is the first position to improve the quality of granules. Sometimes if the plastic film with wet more than 8%,it is not possible to make a best granulating,so here we add the air drying system to pre-dry the plastic film. Fast moving create force and heat to dry the plastic,the hot air will go up and collect by our air collection system, finally they turn hot air into water.
Adopt Euro Tech,Retech improving our compactor structure by reverse the direction of blades plate. It is a opposite direction of screw moving,so it will expand the feeding force and help the screw eaten the film.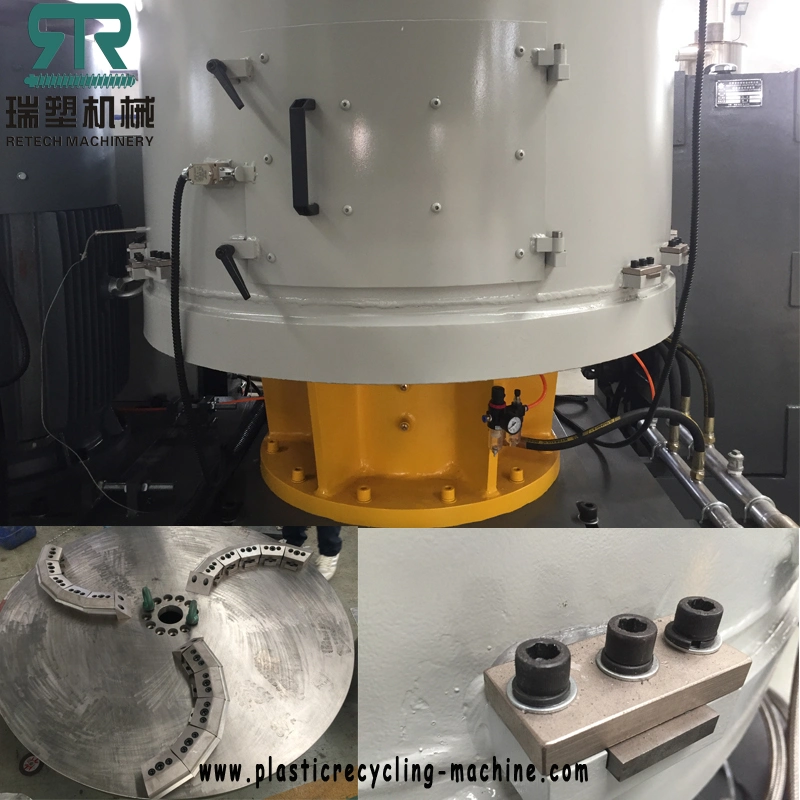 Extrusion/Degassing/Filtration
The single screw divided into different sections like feeding part/extrusion part/mixing part/discharge part. Each section has it's own function for plastics extrusion.
Vacuum degassing is in the middle of whole screw,that is core position of the screw.A better degassing will absorbing the impurities and improve the quality of plastics. Retech's new vacuum degassing is with modern structure and powerful performance.
While the machine working,it will has high pressure at the end of scree and before the filter,we need set a pressure reminder to inform operator to change the nets inside timely. Retech machine equipped with pressure sensor to feel the pressure record,once it is overload,the sensor can get and alarm immediately. It is a good way to protect the machine and improve the quality of granules.
There are multiple options on plastic filtration system:
Single plate two working stations filter
Double plate two working station filter
Double plate four working stations filter
Double piston continuous screen filter
Non-stop wireless filter in max 60 mesh-80 mesh
Self-cleaning filtration system
You can choose what is your demand,or you can tell your requirement to our team to get a recommend.
Granules cutting/die face cutter:
The new technology horizontal cutting system including the mould plate with holes,the water spray channel,the cutter system.
The mould design is as per the production capacity of machine and the material flow ability.The diameter of mould and number of holes is changeable.
On die face cutter position,we adopt the new technology from Europe, it is horizontal type water ring cutting way,it can cut both PE PP plastics. Water spray in correct position ensure the fast cooling of granules in first time.
By the frequency controlling,die face cutter can be completely fit the mould plate.The end air-operated device will ensure to provide the same pressure while the blades touch the mould plate,it means you will get uniform granules no matter the plastic is more or less.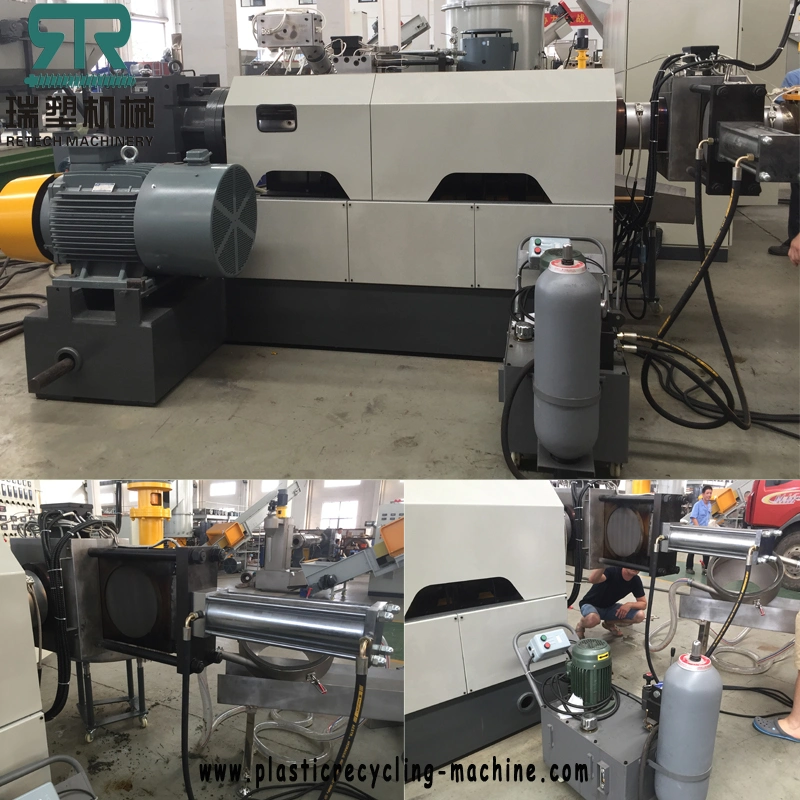 Water cooling:
After the granulation,the hot pellets will fall down to water cooling tank immediately. The proper water temperature will cooling the granules in best condition. Usually the best temperature is between 5-30 degree. To keep this range,you need a water cooling chiller or a water cooling tower to cool down the water.
You can choose the proper water cooling chiller in different models according to your granulating machine. It is 20HP,30HP,50HP,60HP,100HP...etc.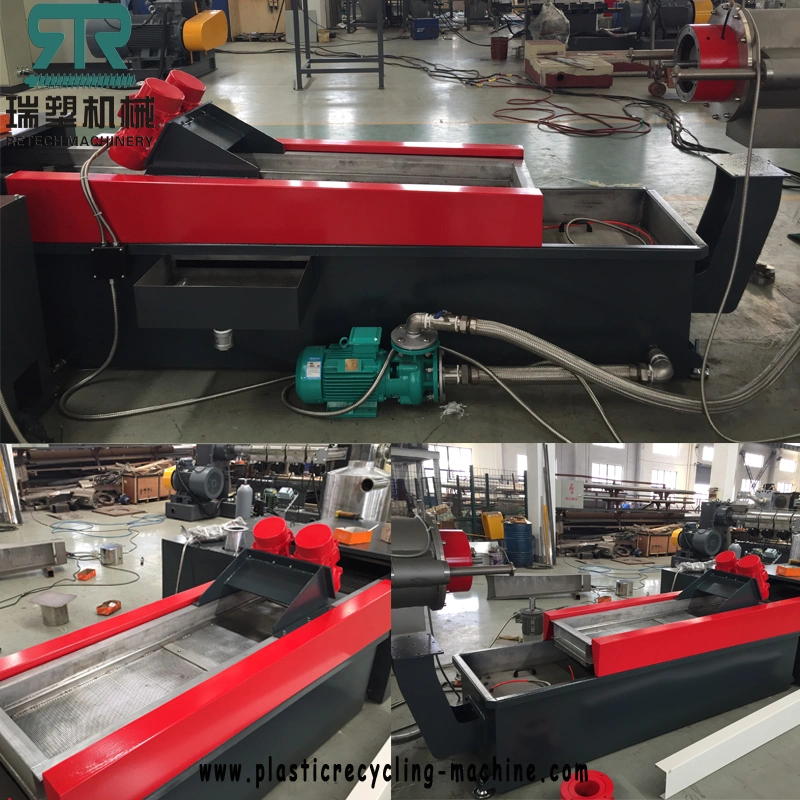 Plastic Granules Drying
After cooling by water, we need dry the pellets in short time,here we have 2 working steps to make sure the final granules is 100% dry and strong.
The first one is vertical plastic dehydrator,it is working with high speed rotation theory in 1200rpm,by fast moving blades inside,it creates force to dry the pellets.
The second option is vibrating screen dryer, it is working not only to dry the plastics,but also to select the best loop granules. It can dry and weed out the bigger block and small powders. Only the needed size granules/pellets will be selected.
Electricity
As we know,electric is the heart of the whole production line.In order to make the stable running machine, Retech team always choose to cooperate with world famous brand electrics such as Siemens,Schneider,ABB,RKC,etc.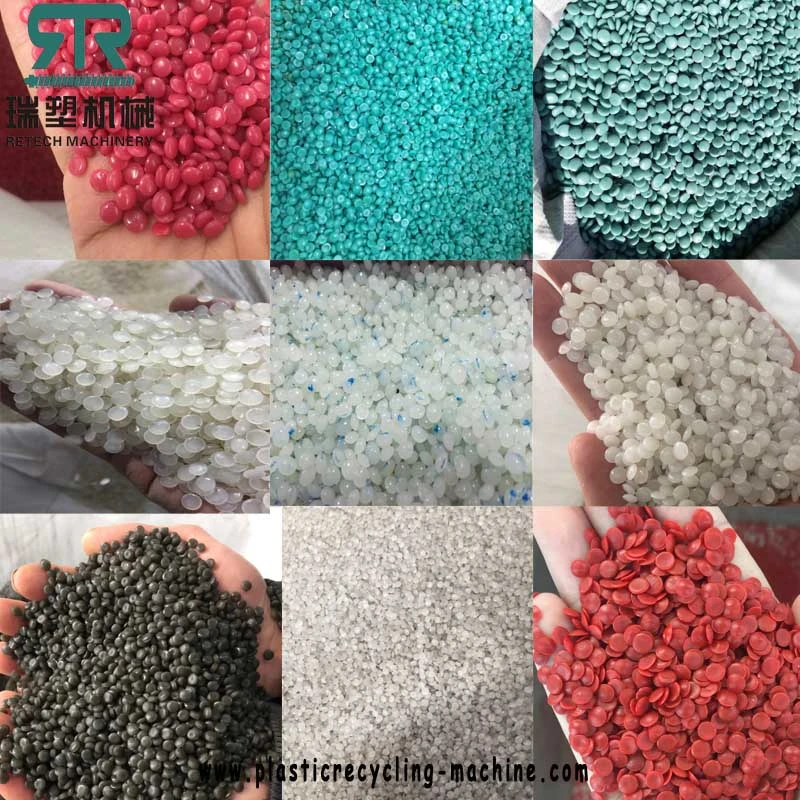 We Supply:
Waste Used Plastic Washing Machines:
Plastic PP PE BOPP film washing machine production line
Plastic PET bottle washing line
Plastic HDPE PP rigid plastic bottle tubes washing recycling line
Waste Plastic Film Bag Recycling Pelletizing Machines:
PP PE packaging film granulation pelletizing line
PP raffia woven non woven yarn fiber fabric silk granulating machine
HDPE LDPE multiple layer film recycling pelletizing machine plant with degassing
T-Shrit Bags Recycling Machine Pelletizing line
Garbage Bags Compactor Pelletizing Machine Facility
Bottom sealed bags Cutting and recycling pelletizing line
Injection/Blow Mould waste rigid plastics recycling machine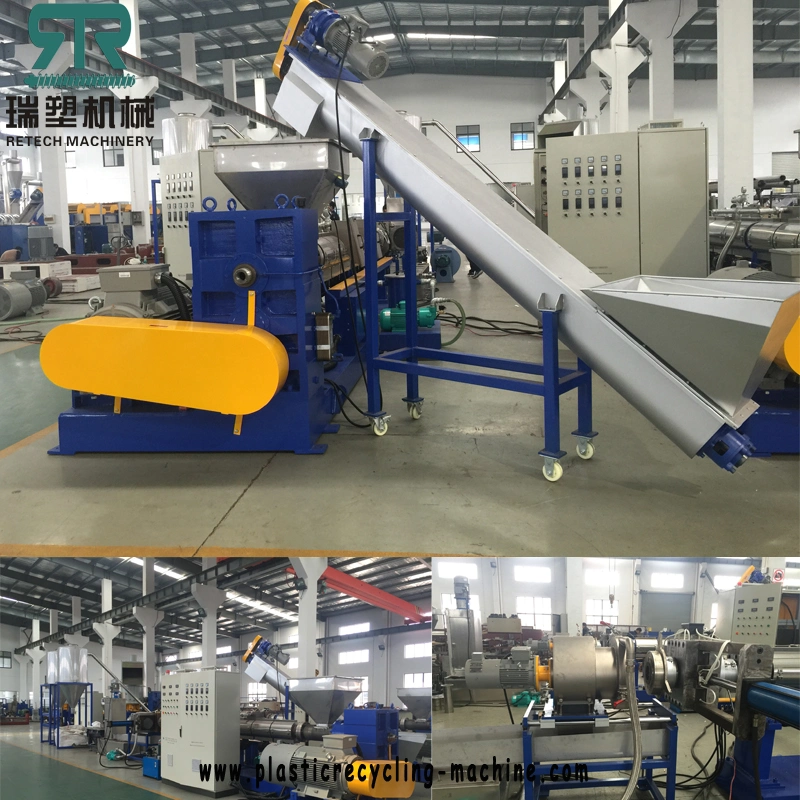 TC Series Plastic PE PP Film Granulating Line
| | | | |
| --- | --- | --- | --- |
| Model | Diameter of screw | PE capacity | PP capacity |
| TCDJ-85 | Φ85mm | 150-200kg/h | 100-150kg/h |
| TCSJ-85/85 | Φ85/85mm | 150-200kg/h | 100-150kg/h |
| TCDJ-100 | Φ100mm | 280-350kg/h | 250-300kg/h |
| TCSJ-100/100 | Φ100/100mm | 280-350kg/h | 250-300kg/h |
| TCDJ-130 | Φ130mm | 480-550kg/h | 400-500kg/h |
| TCSJ-130/130 | Φ130/130mm | 480-550kg/h | 400-500kg/h |
| TCDJ-160 | Φ160mm | 650-800kg/h | 600-750kg/h |
| TCSJ-160/160 | Φ160/160mm | 650-800kg/h | 600-750kg/h |
| TCDJ-180 | Φ180mm | 800-1200kg/h | 750-1000kg/h |
| TCSJ-180/180 | Φ180/180mm | 800-1200kg/h | 750-1000kg/h |
360
°
services:
Customer requirements
→
Scheme designed
→
confirmed by customers
→
order fixed
→
manufacturing
→
trial running in our factory
→
confirmed by customers
→
shipped
→
engineer available overseas
→
whole life after sales services
Package and Loading: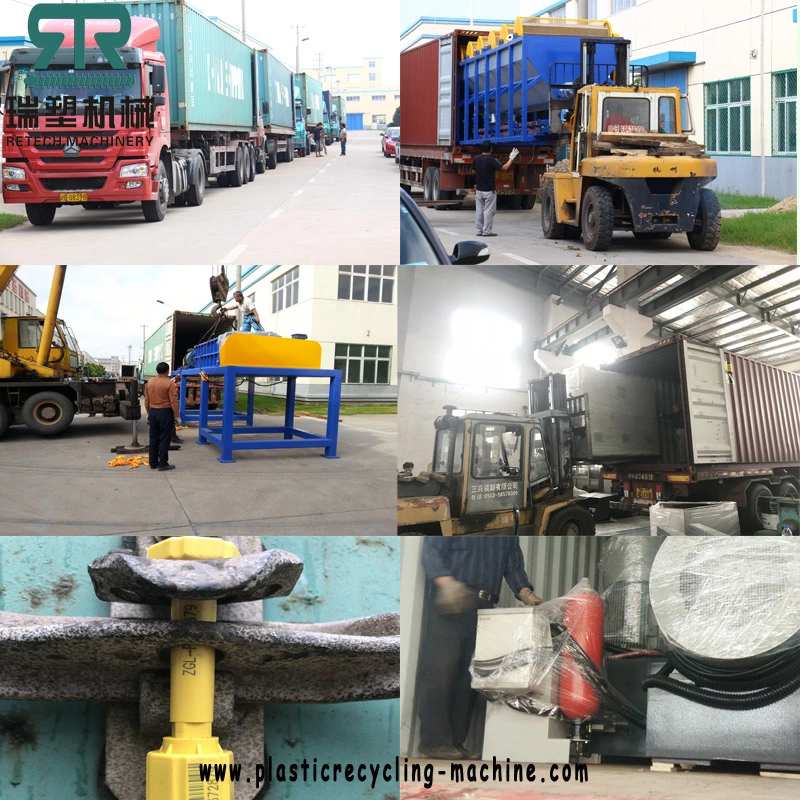 Contacts:

RETECH Machinery is an experienced and professional manufacturing for series plastic washing recycling machine/ plastic granulating recycling machine including ET bottle recycling machines, PE PP film recycling machines, plastic PE PP PS ABS PET PC PVC LD HD LLD BOPP granulating line, water treatment for the waste water from washing line, and auxiliary equipment for plastic recycling....
If you are interesting more details of our products, please contact with us no hesitation!